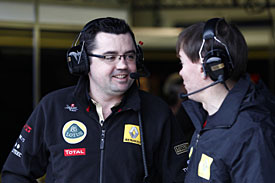 Renault team principal Eric Boullier believes that it would be unwise to write off Mercedes and McLaren as potential rivals to his team in 2011, despite both teams struggle to find pace in testing.
Renault's R31, along with Red Bull's RB7 and Ferrari's 2011 car, have all showed potential during the build-up to the season, but while remains optimistic over the new car's form Boullier says the team cannot afford to assume anything.
"I am not the kind of guy who will publicly say I am confident," the Frenchman told AUTOSPORT's users during a question and answer on this website's Live testing coverage. "I know far too much how it can be tricky to do this.
"Let's see in Australia because here - even though teams have brought their final updates, some teams like McLaren or Mercedes - they have a huge resource potential and then can change dramatically between now and Australia. So let's see in Australia.
"But clearly we are in a better position than one year ago."
Boullier added that the R31 will also sport components when it begins the opening grand prix weekend in Melbourne on the last weekend of March.
"We have some new parts coming," said Boullier. "This week was a case of gradual updates for the car, and we should have upgrades for Australia. And we have some more coming at later races - big steps!
"We will have similar development rates to last year, and we have two strong packages coming."
Report By Simon Strang - AUTOSPORT