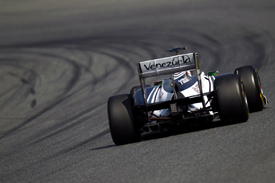 Rubens Barrichello remains concerned that the moveable rear wing could cause a safety issue if it can be used indiscriminately in practice and qualifying.
The Grand Prix Drivers' Association (GPDA) and the FIA discussed issues arising from the new-for-2011 system and other changes like the return of KERS in a meeting in Barcelona last night.
Barrichello said his main worry was that drivers might be tempted to use the drag-reducing wing flaps in fast corners in qualifying and practice, making the cars dangerously unstable. In races the system can only be triggered at specified points for overtaking.
"Hopefully we're going to get a little bit more of an explanation of how the rear wing will work, because in the first place the rear wing should only work for straight lines to overtake," he said.
"Now it's basically working like the F-duct - you're pressing it every corner and it's becoming a nightmare.
"I think it should be used, but in a way that should help promote overtaking.
"But people will be tempted to do flat corners with that down. We're going to see crashes going on. That's not the purpose. You're going to gamble.
"Last year we had to raise the knee to make [the F-duct] work, and I went through Eau Rouge with one leg, and that's not the purpose. It shouldn't be this way."
Barrichello also has worries about the potential distraction of operating the wing and KERS while on a hot-lap.
"With KERS you need to look at the steering wheel to see the number going down to save as much as you want and to use it in the right place. So we're not looking straight ahead all the time," he said.
"I don't want to wait for someone to run into another driver for something to be done. Among the drivers, Charlie [Whiting] and Jean Todt, we're talking about it and hopefully we can manage something better."
He is optimistic that adjustments can be made to address these issues.
"I'm all ears," said Barrichello. "I don't want to put a big thing on how we should sort that out. I have something in my mind. We heard some good ways of solving that."
Report By Jonathan Noble and Matt Beer - AUTOSPORT