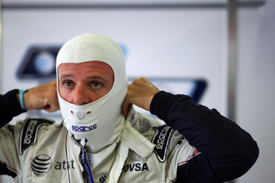 Rubens Barrichello hopes Williams will be able to keep its KERS in place for the opening round of the season, but admits the team will have to take a decision about the device after problems in testing.
Williams has lost running to KERS issues on several days this winter, and also had to run with the system disconnected on occasion - including today.
The Brazilian believes that Williams is looking strong overall, but that KERS is a concern.
"It's my second year with the team, and the team is in much better shape than it was last year," said Barrichello.
"Everything is getting prepared much better. We've managed everything, except KERS.
"KERS seems to be zero problems one day and another day a hundred problems, and then you don't know where it is. From what you read, I think people do have that sort of problem. It's going to be a decision quite quickly on how we're going to develop that."
Asked by AUTOSPORT if there was a possibility of removing KERS for the opening race, Barrichello replied: "I hope not, but I think everyone is going through that question."
He is confident that Williams will have a more competitive season than in 2010, regardless of what happens with its KERS.
"We need to improve a bit on our total performance, but I'm very enthusiastic that that can be done," said Barrichello. "We're doing okay - performance-wise and to drive the car, it's better than last year's."
The veteran driver was unwilling to predict the current pecking order - even at the front of the field.
"I don't know if that's true to say Red Bull and Ferrari are so much faster," he mused. "I think they are faster, but if [Sebastian] Vettel can do 1m21.8s on high fuel, he's going to disappear, it's going to look even worse than last year.
"But having said that, we don't know. It was a surprise to see the Sauber [pace] today - when you run behind the Sauber on track you can see they have a pretty nice car. Some others don't. The Sauber is one of those cars that seem to be okay."
He added: "I don't know where I stand right now. I know that we're better [than 2010] and a few teams seems to be worse than us, but there are some better than us."
Report By Jonathan Noble and Matt Beer - AUTOSPORT