Well!!!!! I own roughly 90+ F1 cars.
Fernando Alonso R23 1:18, R23 First Win, R25, R25 Mild seven livery, R25 WDC, R25 Renault WCC, R26. R26 renault 100th win. and the MP4-21.
R23 J Trulli team issuer showcar 1:18. R24 Trulli
Fisichella R25 and R26
Kimi Raikkonen cherry red soft tyre 1:18, MP4-20 1:18.
Schumacher F248.
Button first test a jerez, minichamps.
Fw27 Webber
TF104 Olivier Panis, and Trulli Showcar.
Massa 2005 sauber show car 1:18
Rosberg fastest lap 2006 Bahrain GP.
Ralph Schumacher first win 1:18 ;;;
Other stuff I own, are loads of onyx F1 early 90's cars, from Karl Wenligers sauber to the Bennetton 94 of Schumacher, and the commemorative 1997 Villneuve WDC. There all the onyx cars. i got some minichamps aswell. some prints framed of kimi, massa, koob, Alonso, schumi, vettel, rosberg e.t.c Ill just post a picture of my bedroom. Anyone wants decent and detailed pics of the cars, i can send them or post them here. upto whoever wants them.;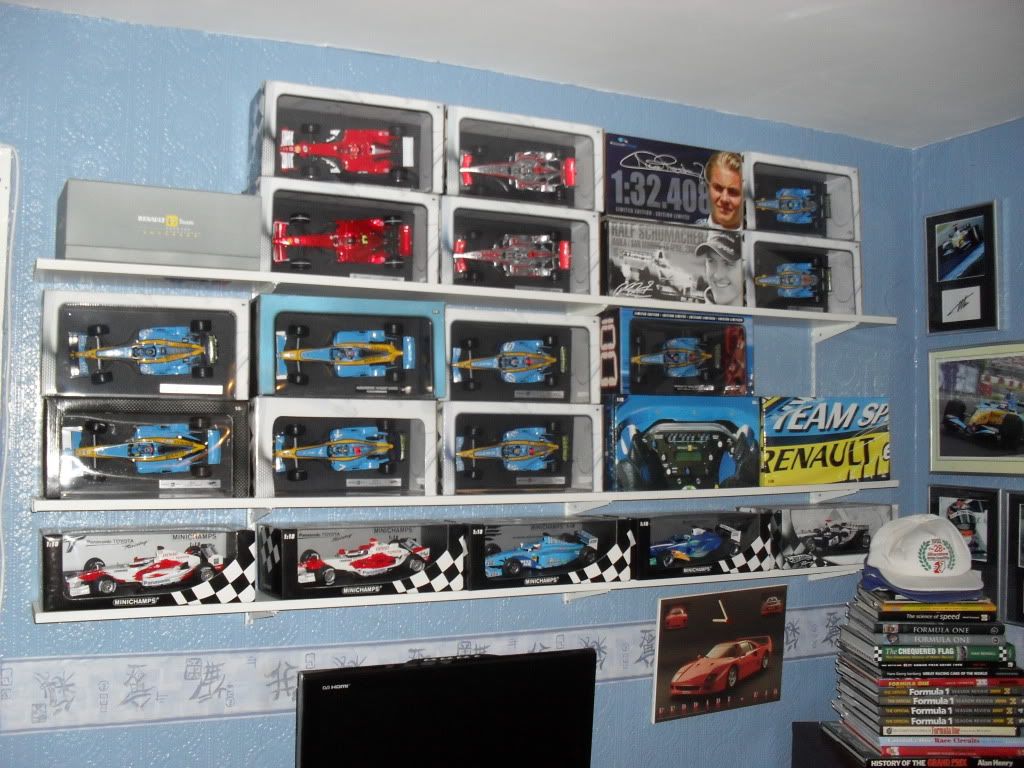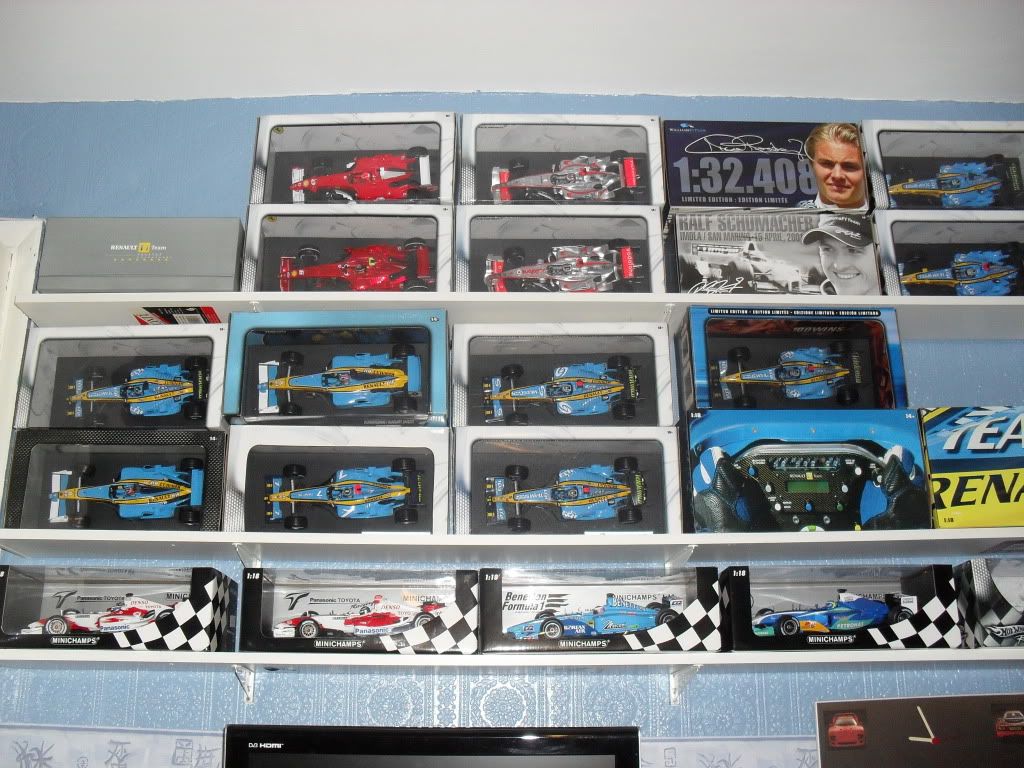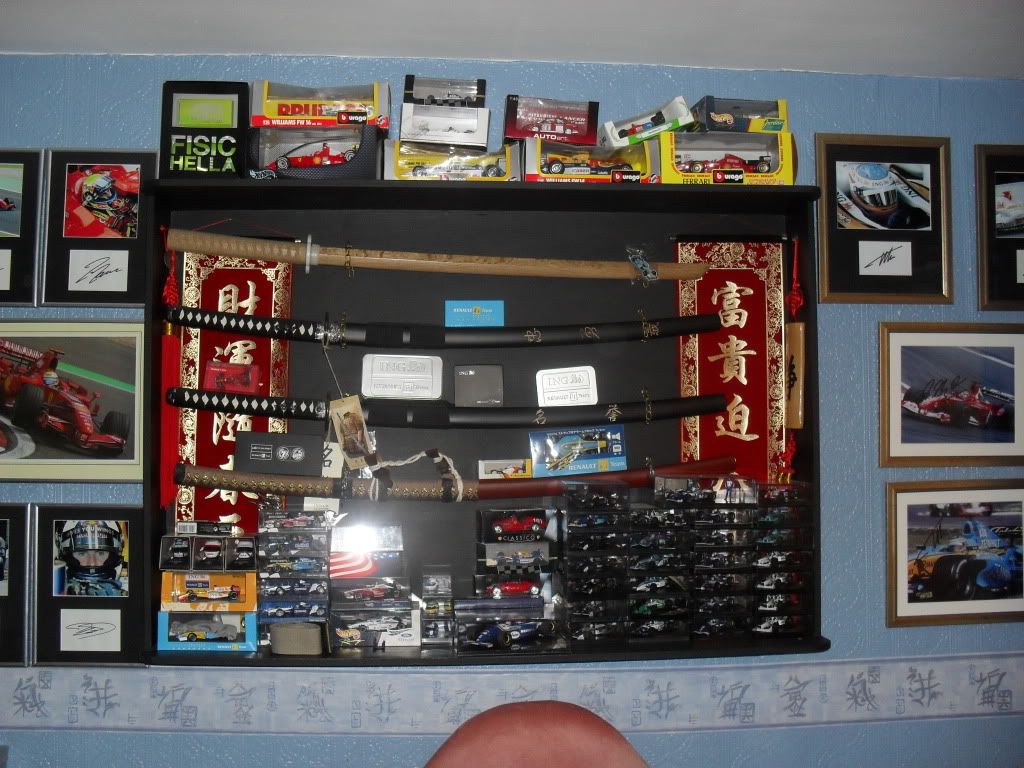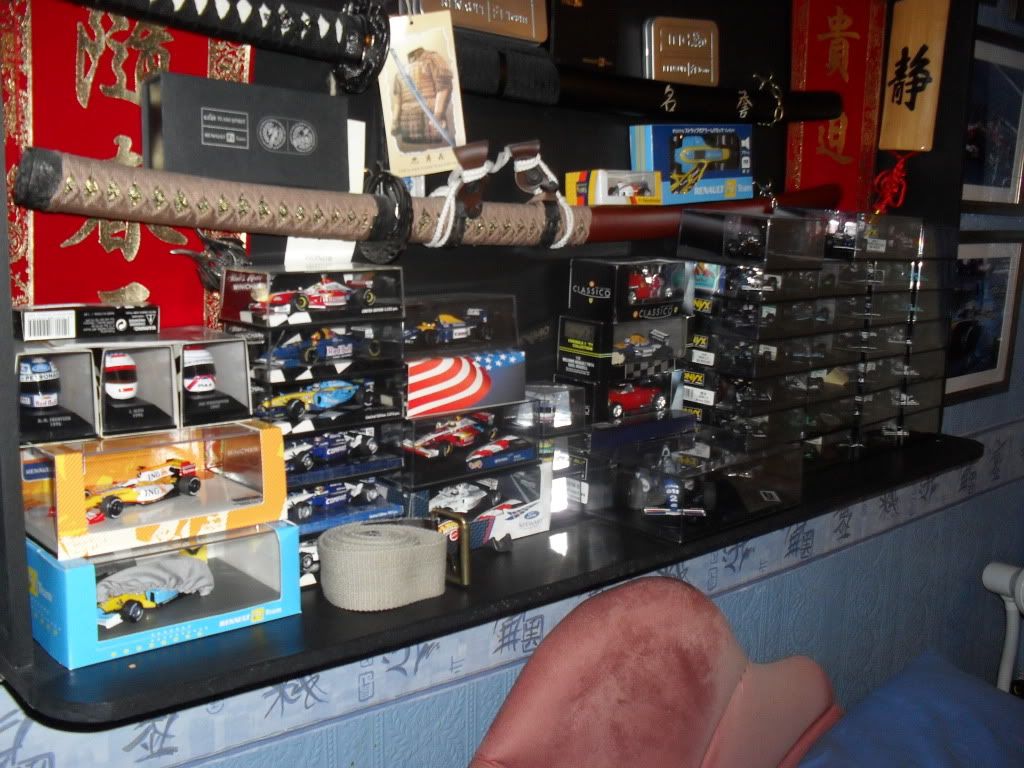 I also have a load of team issue clothing and Alonso shirts/tops. I bought team pit shirts and team issue replica race boots too. Plus team issue A2 double sided posters of Renault at the various 2006 races. if you want pictures of all the poster lemme know. I also have a collection of 2001-2006 Button caps, 2004-2009 Alonso caps, random honda caps of Sato, Rubens and Villneuve. I have to post this picture of my Alonso tshirt. Sorry, but its just phenomenal;