Just Go to this link:
http://www.sp-studio.de/sp-studio.swf
Then post a picture of you as a south park character
Here's Mine:
---
I cant play the Guitar
Find the line, the speed will come.
---
---
---
LOL Nice Pic Phil
---
jeez, i did that ages ago
---
yeah i was searching for ''south Park''
---
ok right, you keep doing that
---
F1 Driver

Posts: 2010
Joined: 30 May 2008, 18:44
Fairly true to life me:
I look grumpy.
I have bad hair.
I like stripy T-Shirts.
I occasionally wear a scarf.
I don't really have "COCK" written on my T-Shirt though. I don't really know why I did that..
Me going over the top:
I have swords, knives and nunchucks.
I have a guitar. I can't play guitar.
I have Ray Manzarek sunnies.
I have a bandana! And a shiny jacket. How cool is that?? Not to mention pin-striped trousers and a 'tache and sideburns.
No, I'm not calmer. Just more jaded.
---
F1 Rookie

Posts: 553
Joined: 10 Apr 2008, 14:41
Location: Jakarta
Contact:
---
that was fun.
Well. This is somewhat of who I am about. I am for the most part "bald". I enjoy wearing baseball hats. I have the brown shirt because its a favorite color. The Bio Hazard emblem is a sticker I have on my Oakley sunglass case, and I just like the wicked look its design. Of course the sunglasses are shaped like my Oakley's. And since I have a graveyard position at work, my eyes will tell you the story that I am pretty much drained and strung out. My wife says that my back pack is really a man purse....Shut the hell UP!
Anyway, here's me.
---
This is one crazy dude !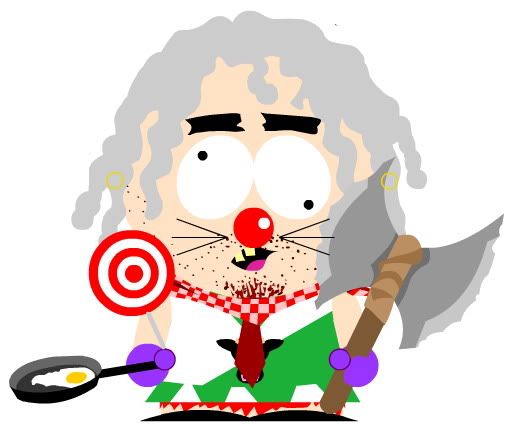 ---